Permania: Why The Permian Is Where The Party At
Brought to you by Seeking Alpha
Why is everyone talking about the Permian?
The Permian Basin is primarily located in West Texas with a small part spilling into the southeastern corner of New Mexico. To make you happy, and because things like this tickle us, we've made this map.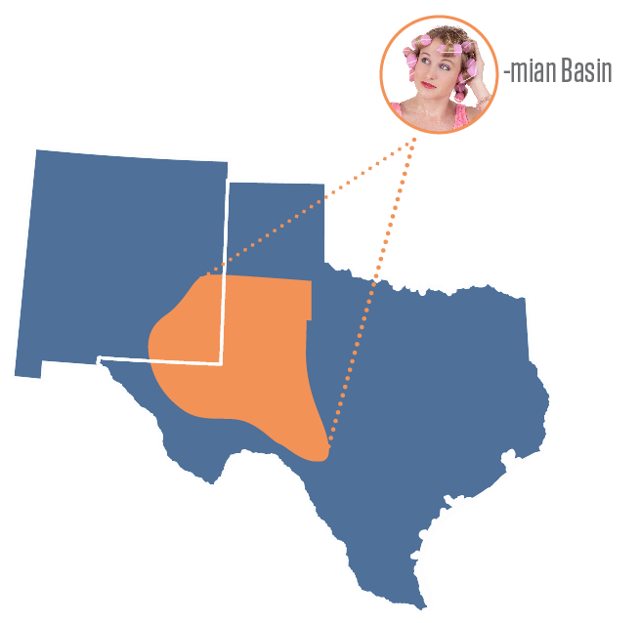 This basin measures 250 miles wide by 300 miles long and gets its name from the Permian geological period [1].
Everyone is talking about the Permian because oil production there has TRIPLED since 2008.
Even during the recent energy downturn, the Permian kept pumping, increasing production in all but three months between January 2016 and March 2017. The US Energy Information Administration (EIA) recently released a report detailing that 340 of the 857 total rigs in the US are in the Permian. That's 40%, y'all!
The Permian has been a steady production area for about a century. Many years ago, however, the oil was perceived to be drying up and big oil companies sold their positions in the basins to smaller producers. The idea was that the little guys could scrape out the last of the oil as the Permian declined. But things changed rapidly with the invention of hydraulic fracturing. With new technologies in play, oil started to flow out of the Permian again. Exxon Mobil (NYSE:XOM) bought 275,000 acres in the Permian in mid-January of this year to double its holding, and they aren't the only oil giant re-focusing on the area. Chevron (NYSE:CVX) boasts its ownership of roughly 2 million acres in the region and notes its production of around 90,000 barrels of crude oil each day.